LIVE STREAM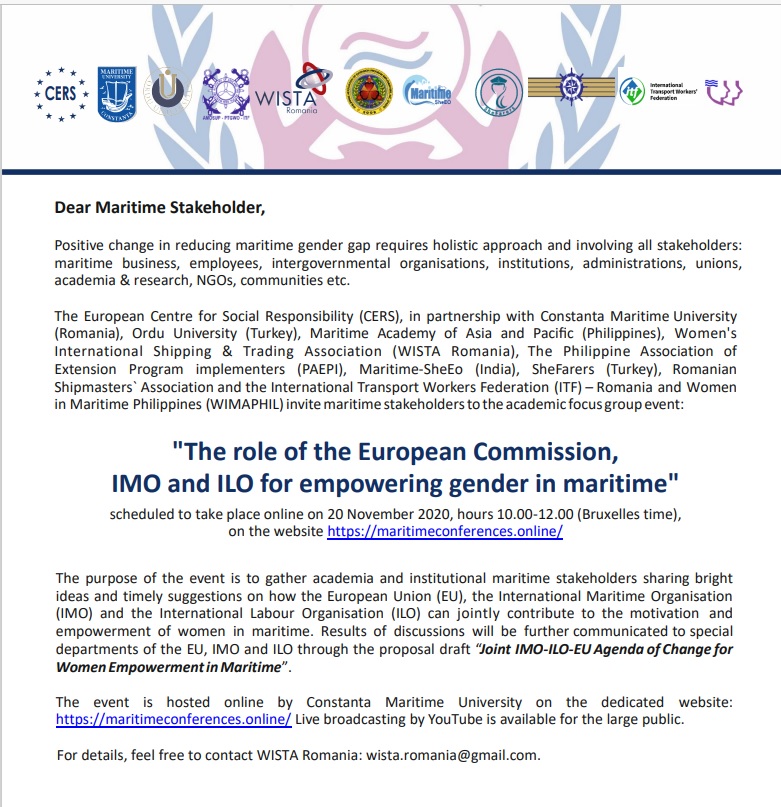 Dear Maritime Stakeholder,
Positive change in reducing maritime gender gap requires holistic approach and involving all stakeholders: maritime business, employees, intergovernmental organisations, institutions, administrations, unions, academia & research, NGOs, communities etc.
The European Centre for Social Responsibility (CERS), in partnership with Constanta Maritime University (Romania), Ordu University (Turkey), Maritime Academy of Asia and Pacific (Philippines), Women's International Shipping & Trading Association (WISTA Romania), The Philippine Association of Extension Program implementers (PAEPI), Maritime-SheEo (India), SheFarers (Turkey), Romanian Shipmasters` Association and the International Transport Workers Federation (ITF) – Romania and Women in Maritime Philippines (WIMAPHIL) invite maritime stakeholders to the academic focus group event:

"The role of the European Commission, IMO and ILO for empowering gender in maritime"

scheduled to take place online on 20 November 2020, hours 10.00-12.00 (Bruxelles time), on the website https://maritimeconferences.online
The purpose of the event is to gather academia and institutional maritime stakeholders sharing bright ideas and timely suggestions on how the European Union (EU), the International Maritime Organization (IMO) and the International Labor Organization (ILO) can jointly contribute to the motivation and empowerment of women in maritime. Results of discussions will be further communicated to special departments of the EU, IMO and ILO through the proposal draft "Joint IMO-ILO-EU Agenda of Change for Women Empowerment in Maritime".
The event is hosted online by Constanta Maritime University on the dedicated website: https://maritimeconferences.online. Live broadcasting by YouTube is available for the large public but only registered speakers are able to interact. For registration of the institutional speaker delegate, fill in the short Google Form: https://forms.gle/ArFf38pLqRdNPwaV9.
We recommend the discourse of the speaker delegate to be of approximately 3 minutes (brief but highly effective). Please include the reasoning for your idea(s) of effective action, program or policy suggested for the UE, IMO or ILO. If possible, mention if/how your institution can get involved in the implementation of the idea. Speakers that can't attend the live event (e.g. due to local time differences) are highly encouraged to submit to wista.romania@gmail.com a 3 minutes recording with their discourse by latest 18 November 2020. For other details, feel free to contact: wista.romania@gmail.com.